A new way to experience your holiday stay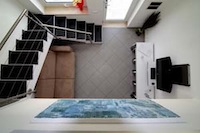 Smart Home© apartments offer a new way to experience your holiday stay. Feel at home with us. From room design to interior furnishing, nothing has been left to chance. Our trade mark guarantees sound facts.
We have combined carefully researched, heavy duty materials for everyday wear and tear with a modern, minimalist design with clean lines and exquisite finishings to create flexible, multi-purpose rooms. Our mobile furniture system allows you to change a room from home use into a studio/office and we can offer different sized apartments at affordable prices to meet your requirements.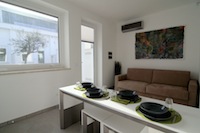 We make continual, detailed inspections of the rooms and the technologies in them in order to guarantee quality assurance. Top of our agenda is always to ensure our customers have a peaceful and very comfortable stay with us.
Our Apartments